(unfortunately, both of the books shown below are now out of print. Boo, Viking!)


CAUGHT IN THE ACT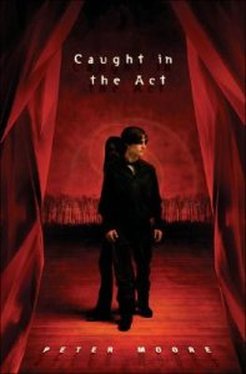 It sure seems like Ethan Lederer has everything a ninth-grade guy could want. He has high grades, a great girlfriend, good friends. He's also into acting and may even get the lead in the play this year.

But then everything changes when Lydia Krane walks into Ethan's chemistry class. She wears all-black, has strange writing on her arm, and seems like a loner.

Everyone at West Baring High seems to think Lydia is weird. But not Ethan. He thinks she's smart, funny, and mysterious. And she's into drama, too. Even if everyone thinks he's crazy, he's convinced that she's worth getting to know better. Even if it means risking everything….
NOTE:
Caught in the Act
was published by Viking Children's Books. It is now out of print.
If you would like to see it become available again, drop a note to Viking.
---
BLIND SIGHTED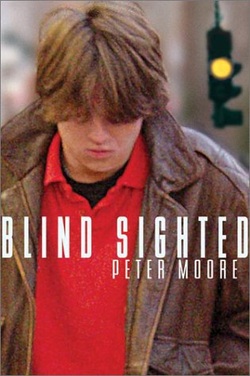 From School Library Journal (starred review)
Grade 9 Up
Kirk Tobak, 16, is a brilliant, undersized underachiever. His uneventful life in small-town New Jersey includes playing parent to his alcoholic mother, blowing off school where he's "chairman of the bored," and shelving books in the library he loves. Life might be a drag, but it's under control, at least until events conspire to take him on a heady roller-coaster ride through the confusion of first love, a rocky taste of independence, and a severe dose of reality. Demoted into bonehead English, Kirk is jolted to find a perceptive teacher trading jibes with the "burnouts," including Big Glenn, whom Kirk proceeds to insult, crossing "the line from obscurity to suicide." Glenn, though, realizes that "the Hobbit" thinks fast and writes wickedly clever verse-a welcome gift for a guitarist who writes great music. An unlikely friendship develops, and their needy and sexually intense classmate, Lauren, falls for the virgin protagonist. Kirk also finds himself involuntarily hired to read to a blind woman, who turns out to be an unexpected (and original) catalyst. Just as life is looking rosy, Mom takes off to California. Kirk refuses to budge, conveniently ignoring the looming crisis. As he discovers sex (the good, the bad, the disappointing) and the miracle of an intense intellectual friendship with the blind Callie, Mom gets her life together and puts the house up for sale, and Kirk must figure out himself and his relationships. The author's plotting is complex and subtle. Moore writes snappy dialogue that is dead-on accurate teenage banter. The characters are sympathetic and real, the dilemmas heartfelt, and Kirk's first-person monologues and personal riffs are priceless.
Mary R. Hofmann, Rivera Middle School, Merced, CA
Copyright 2002 Cahners Business Information, Inc.
NOTE:
Blind Sighted
was published by Viking. This one is also now out of print.
If you would like to see it become available again, let the publisher at Viking know.
---